Chapter 5: AVERAGE



Introduction

Average is the mean value of a set of numbers.



Average = (x1+x2+x3+...+xn) / N.


E.g: If the weight of 4 students is 20,22,18,24 then their average weight is 20+22+18+24 = 84 / 4 = 21.

Weighted average is the average of two or more groups whose individual averages are known.



W . A = (n1*a1 + n2 * a2) / (n1 + n2)
n1= strength of group 1
n2 = strength of group 2
a1 = average of group 1
a2 = average of group 2


Average speed: Ratio of total distance to the total time taken.

Age and average: If the average age of 'n' persons decreased by 'a' years , then the total age is decreased by 'n*a' years.

Average of 'n' consecutive odd numbers is the middle value i.e. average of 1,3,5,7,9 is 5. Average of 'n' consecutive even numbers is the average of two middle numbers i.e. 2,4,6,8,10,12 is 6+8/2 = 7.

E.g: The average weight of 6 men is reduced by 3 kg when a man weighing 60 kg is replaced by another man, so find his weight?
A. Decrease in average weight = 3 kg, decrease in total weight = 6*3 = 18. Therefore weight of the new man = 60 - 18 = 42.

Rule of Alligation:
If two quantities are mixed in a ratio then


Quantity of cheaper / Quantity of dearer =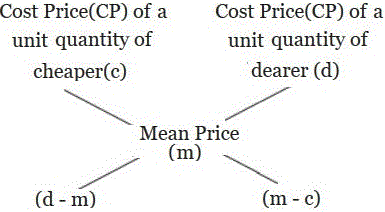 E.g: In what proportion must rice at Rs3.10 per kg be mixed with rice at Rs3.60 per kg, so that the mixture be worth Rs3.25 a kg?
A. c = 3.10 , d = 3.6 , m = 3.25.
Therefore, quantity of cheaper / quantity of dearer =
= (d-m):(m-c) = (3.6-3.25): (3.25-3.1)
= 7:3.

Rule of Mixtures: If a container having 'V' units of a liquid in a solution and 'k' units of liquid is taken out and replaced by 'k' units of water and this operation is repeated 'n' times then the final quantity of liquid in container is given by



Q = V * ( 1 - (k/V) ) ^ n



E.g: For a container with 120 liters of milk, 40 liters is taken out and replaced with water. If this process is repeated twice, find the quantity of milk in the container now.
A. Quantity of milk in the container: = 120 ( 1 - (40/120)) ^ 2

= 120 * (4 / 9) = 53.33 liters.
Sample Questions
Q. If average age of 10 people is 32 what must be the age of the new joinee if the average age increases by 5.
A. Old average = 10*32=320, New average = 11 * 37 = 407 so new joinee must have age = 407 - 320 = 87.
Q. there are two sections A and B of a class consisting of 36 and 44 students respectively. If the average weight of section A is 40kg and that of section B is 35kg, find the average weight of the whole class?
A. n1 =36, n2 = 44, a1 = 40 , a2 = 35 now apply weighted average formula (see above).
Q. Nine persons went to a hotel for taking their meals 8 of them spent Rs. 12 each on their meals and the ninth spent Rs. 8 more than the average expenditure of all the nine. What was the total money spent by them?
A. Let 'x' be the average. The equation is 12*8 + (x+8) = 9*x as total sum spent by all 9 is addition of Rs. 12 each spent by first 8 i.e. 12*8 and the Rs. 8 more than average spent by last one i.e. x+8.
Q. The average age of a class of 39 students is 15 years. If the age of the teacher be included, then the average increases by 3 months. Find the age of the teacher.
A. The teachers age = (Group average) + (increase in average age of entire group)
= 15 yrs + ( 40 * 3 months)
= 15 yrs + (120 months / 10 yrs)
= 25 years
Q. The average weight of 10 oarsmen in a boat is increased by 1.8 kg when one of the crew, who weighs 53 kg is replaced by a new man. Find the weight of the new man.
A. Weight of new man = 53 + (1.8*10) = 53 + 18 = 71 kg.
Q. There were 35 students in a hotel. Due to the admission of 7 new students, ; the expenses of the hotel were increased by Rs. 42 per day while the average expenditure per student diminished by Rs 1. What was the original expenditure of the hotel?
A. Let original average expenditure per student be 'x'.
So we get 42(x-1) - 35x = 42. As for 42 students the average expense decreased by 1 and so total was 42*(x-1) and for 35 students it was 35x.
Q. Distance between two stations A and B is 200 km. A train covers the journey from A to B at 100 km per hour and returns back to A with a uniform speed of 50 km per hour. Find the average speed of the train during the whole journey.
A. time taken to go from A to B = 2 hrs and from B to A is 4 hrs.
Average speed = total distance / total time = 400 / (2+4) km/hr
OR
Directly use formula 2xy / (x+y) where x = speed from A to B, y = speed from B to A.
average speed = 2*100*50 / (100+50) = 400 / 6 km/hr
Q. In what ratio must rice at Rs. 9.30 per kg be mixed with rice at Rs. 10.80 per kg so that the mixture be worth Rs. 10 per kg ?
A. d = 10.8, c = 9.3 and m = 10
Quantity of cheaper / Quantity of dearer = (10.8 - 10)/(10-9.3) = 8/7
Q. How much water must be added to 60 litres of milk at 1 ½ litres for Rs. 20 So as to have a mixture worth Rs.10 2/3 a litre ?
A. 1 liter milk = 40/3 rupees
Quantity of milk / quantity of water = (32/3 - 0 ) / (40/3 - 32/3) = (32/3:8/3)
So 4:1
Q. How many kgs. of wheat costing Rs. 8 per kg must be mixed with 36 kg of rice costing Rs. 5.40 per kg so that 20% gain may be obtained by selling the mixture at Rs. 7.20 per kg ?
A. If selling price is 7.2 then cost price is 6 as 20% gain is made.

quantity of rice / wheat = (6 - 5.4) / (8-6) = 0.6 / 2 = 3/10.
So for 3 kg of rice 10kg of wheat is needed so we need x kg of wheat for 36 kg of rice. 3:10 :: 36:x
x = 36*10 / 3 = 120 kg

CAT practice questions
There are 60 students in a class. These students are divided into three groups A, B and C of 15, 20 and 25 students each. The groups A and C are combined to form group D.
Q.What is the average weight of the students in group D?
More than the average weight of A

More than the average weight of C

Less than the average weight of C

Cannot be determined
Ans.d
Q.If one student from group A is shifted to group B, which of the following will be true?
The average weight of both groups increases

The average weight of both the groups decreases

The average weight of the class remains the same

Cannot be determined
Ans.c
Q.If all the students of the class have the same weight, then which of the following is false?
The average weight of all the four groups is the same

The total weight of A and C is twice the total weight of B

The average weight of D is greater than the average weight of A

The average weight of all the groups remains the same even if a number of students are shifted from one group to another
Ans.c
Q.The average marks of a student in 10 papers are 80. If the highest and the lowest scores are not considered, the average is 81. If his highest score is 92, find the lowest.
55

60

62

Cannot be determined
Ans.b
Q. Total expenses of a boarding house are partly fixed and partly varying linearly with the number of boarders. The average expense per boarder is Rs. 700 when there are 25 boarders and Rs. 600 when there are 50 boarders. What is the average expense (in Rs.) per boarder when there are 100 boarders?
550

580

540

570
Ans . A
Q. A college has raised 75% of the amount it needs for a new building by receiving an average donation of Rs. 600 from the people already solicited. The people already solicited represent 60% of the people the college will ask for donations. If the college is to raise exactly the amount needed for the new building, what should be the average donation from the remaining people to be solicited?
300

250

400

500
Ans . A
Q. Every 10 years the Indian Government counts all the people living in the country. Suppose that the director of the census has reported the following data on two neighbouring villages Chota Hazri and Mota Hazri.
Chota Hazri has 4,522 fewer males than Mota Hazri.
Mota Hazri has 4,020 more females than males.
Chota Hazri has twice as many females as males.
Chota Hazri has 2,910 fewer females than Mota Hazri.
What is the total number of males in Chota Hazri?
11,264

14,174

5,632

10,154
Ans . C
Q. Three classes X, Y and Z take an algebra test.
The average score in class X is 83.
The average score in class Y is 76.
The average score in class Z is 85.
The average score of all students in classes X and Y together is 79.
The average score of all students in classes Y and Z together is 81.
What is the average for all the three classes?
81

81.5

82

84.5
Ans . B
Q. In some code, letters a, b, c, d and e represent numbers 2, 4, 5, 6 and 10. We just do not know which letter represents which number. Consider the following relationships:
I. a + c = e,
II. b – d = d and
III. e + a = b
Which of the following statements is true?
b = 4, d = 2

a = 4, e = 6

b = 6, e = 2

a = 4, c = 6
Ans . B
Q. Ashish is given Rs. 158 in one-rupee denominations. He has been asked to allocate them into a number of bags such that any amount required between Re 1 and Rs. 158 can be given by handing out a certain number of bags without opening them. What is the minimum number of bags required?
11

12

14

none
Ans . D
Q. A change-making machine contains one-rupee, two-rupee and five-rupee coins. The total number of coins is 300. The amount is Rs. 960. If the numbers of one-rupee coins and two-rupee coins are interchanged, the value comes down by Rs. 40. The total number of five-rupee coins is
100

140

60

150
Ans . B
Quiz
Score more than 80% marks and move ahead else stay back and read again!