Chapter 10: LABOUR AND EMPLOYMENT ECONOMY
Agriculture, animal husbandry, forestry, fishery, etc., are collectively known as "primary" activities or industries. They are primary because their products are essential or vital for human existence. They are carried on with the help of nature




Manufacturing industries, both small and large scale, are known as "secondary" activities. Mining is sometimes included under secondary activities, but properly speaking, it is a primary activity.




. Transport, communications, banking and finance and services are "tertiary" activities which help the primary and secondary activities in the country.




The occupational structure of a country refers to the distribution or division of its population according to the different occupations.



How does one explain the growth of India becoming a post-industrial 'service economy', without passing though the major phase of industrialization, spearheaded by manufacturing?
Technological changes during the last few decades have induced an increase in demand for services even at even relatively lower levels of per capita income.




Moreover, development of communication technologies and reduction of the barriers to commodity flows and movement of people, especially skilled persons due to impact of globalization, have produced demonstration effects resulting in shifting the pattern of demand in developing countries in favour of those prevailing in developed countries much earlier than the historical experience would justify.




As consequences, both the production and consumption of services have a quantum jump.




Unfortunately, the pattern of production of services which is capital intensive has failed to bring employment opportunities to a large part of the work force.



Labour Facts

Unemployment rate is defined as the number of persons unemployed as a proportion of the labor force i.e. number of people working or seeking work or available for work.

Total employed people are 46.5 crore out of which 2.8 crore are employed in organized sector and 43.7 crore in unorganized sector.

Unorganized workers are covered under Unorganized workers social security act, 2008. National and state level boards are created. Workers are given health - disability - maternity coverage and skills and pension benefits.


Unemployment Workers Social Security Act, 2008
To provide social security to unorganized workers.
National Social security board to be formed to look into administration of the Act and formulation of the policies.
State level boards ensure delivery of social security entitlement.
A fund of Rs. 1000 crore is setup.
In India where 82% of all workers belong to the unorganized sector and only 18% belong the organized sector such a scheme has a far reaching impact if implemented in mission mode.
Types of Unemployment
Cyclical: Removal of workers during recession.
Frictional: Switching between jobs for worker.
Disguised: Removal of worker doesn't lead to loss of productivity.
Seasonal: Farmers or other categories working for a few months a year.
Under employment: not doing work of your qualification
Structural or open: economy not generating jobs
Technological: unemployment due to technology
Educated: No working to prepare for exams
Employee Provident Fund Organization
Rs 8.5 lakh crore corpus of E.P.F.O. is invested in equity, corporate bonds and government securities. It was setup in 1952. It is a statutory body under the Employee Provident Fund Act. The apex decision making body of E.P.F.O is the Central Board of Trustees. The E.P.F.O handles social security for Indian and international workers for which bilateral agreements have been signed. The EPFO also handles the pension scheme and insurance scheme.
The EPFO is under administrative control of Labour ministry. The Central board of Trustees has Union, state government representatives along with employers and employee representatives. The board is chaired by Union minister of Labor and employment.
HQ - New Delhi.
Industrial disputes Act
If more than 100 or 100 workers in an enterprise then this act is applicable to it. The Act has certain provisions related to labor policies of organizations. The labor is under concurrent list and so both center and state can make rules for it. The approvals under this Act make it impossible to upgrade technology to meet new client requirements, fire staff and hence creates compliance issues.
The Act has led to multiple permissions at national or state level and encouraged contract labor and outsourcing as companies want to remain out of purview of the Act by keeping a minimum workforce.
To regulate the increasing contract labor force in industries the Contract Labor Act was passed and mandates a minimum salary of Rs. 10000 for workers.
Features:
Advance notice must be given to workers and state governments approval must be taken before retrenchment i.e. laying off.
Advance notice before changing office hours, holidays.
21 days notice before modifying wages, leaves, rest and work periods.
Defense Procurement Policy 2016
Procurement priority order was finalized for defense related expenditure.
Priority
Indigenous design, developed and manufactured in India.
Foreign companies transfer technology to Indian firms and manufacture product in India.
Foreign made goods with no technology transferred to India.
Offset Threshold in D.P.P. - 2016
Threshold set to Rs 2000 crore. Foreign firms getting Indian defence contracts have to invest part of the tender amount in India as purchasing supplies from local vendors or investment.
This shall improve Balance of Payments of India and promote local manufacturing.
Start Up India
S.I.D.B.I became the agency for refinancing. Banks would give Rs 10000 crore worth credit to entrepreneurs. Each branch should give at least one loan to SC / ST; 1 loan to women and target greenfield non farm sectors. Loans amount between Rs 10 lakh to 1 crore.
Funds under S.I.D.B.I:
India Aspiration Fund: Venture Capital fund
SMILE - S.I.D.B.I Make in India Loan for Small Enterprises:Short term loans for 25 Make in India thrust sectors.
Other Benefits for Startups:
Faster exit within 90 days in case of bankruptcy
National Credit Guarantee trust company
Venture capital fund for startups and incubators.
Capital gains tax exemption if selling personal property to invest.
Self certification for regulatory compliance of E.P.F., Environment.
No Income tax for 3 years and no inspection for 3 years.
Relaxation in norms for startups in procurement against experienced companies.
80% rebate on patent application fee; Support in commercializing patents or I.P.R's;
Stand Up India
A scheme to promote setting up of greenfield enterprises in field of manufacturing, services and trading by entrepreneurs of SC, ST and Women. Launched by Dept of Financial Services.
Features:
Composite loans between Rs 10 lakh to Rs. 1 crore
Hand holding support
Credit guarantee support
Online registration and portal of support agencies.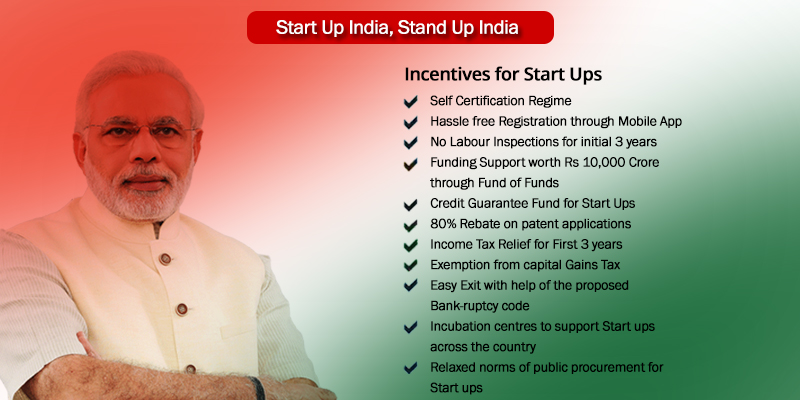 Fig 1: Stand up India
Udyog Aadhar Number
Created under M.S.M.E. Development Act for "Ease of doing business". Entrepreneurs can apply online and get number instantly. Information sought is on self certification basis and no supporting documents are needed.
A.S.P.I.R.E 2015 - A Scheme for Promoting Innovation and Rural Entrepreneurs for rural and agro based industries by the M.S.M.E Ministry.
N.I.T.I. Aayog Schemes
To support innovation and incubation. The scheme provides grants to schools to set up ATAL innovation centers and competitions. Engineering institutions also have grants upto Rs. 10 crore for incubation centers.
S.E.T.U - Self Employment and Talent Utilization scheme for incubation centers.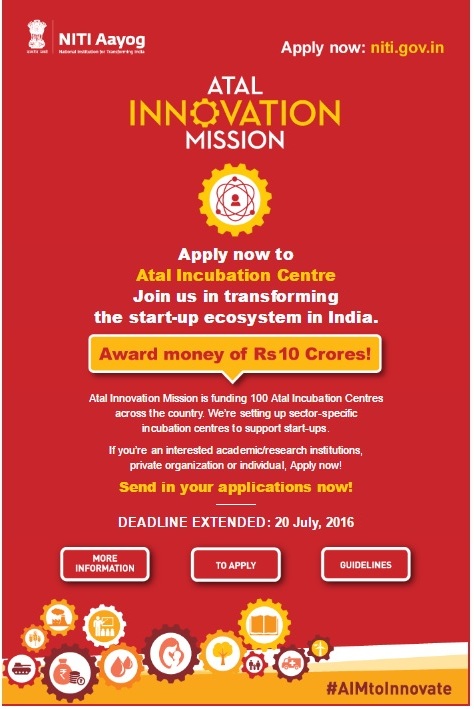 Fig 2: Atal innovation mission
Atal Pension Yojana
Atal Pension Yojana
Minimum guaranteed pension of Rs. 1000 - Rs. 5000 to the subscriber after he completes age of 60 years.


Same pension shall be given to spouse after subscriber's death.


Return of pension corpus to nominee after spouse's death. Corpus shall be of Rs. 1.7 lac to Rs. 8.5 lac.


Tax benefits to be available at entry, accumulation and pension exit time.


Scheme can be availed from all bank branches and post office network.


It seeks to consolidate laws relating to wages by replacing: (i) the Payment of Wages Act, 1936, (ii) the Minimum Wages Act, 1949, (iii) the Payment of Bonus Act, 1965, and (iv) the Equal Remuneration Act, 1976. The Code will apply to establishments where any industry, trade, business, manufacturing or occupation is carried out. This will also include government establishments.




National minimum wage: The central government may notify a national minimum wage for the country. It may fix different national minimum wage for different states or geographical areas. The minimum wages decided by the central or state governments will not be lower than the national minimum wage. The central or state governments will not reduce the minimum wages fixed by them, if these wages are higher than the national minimum wage.




Advisory boards: The central and state governments will constitute their respective advisory boards. These boards will have representation from: (i) employees, (ii) employers, and (iii) independent persons. Further, one-third of the total members will be women. The boards will advise the respective governments on aspects including: (i) fixation of minimum wages, and (ii) increasing employment opportunities for women.




Offences: The Code specifies penalties for offences committed by an employer, such as (i) paying less than the due wages, or (ii) for contravening any provision of the Code. Penalties vary depending on the nature of offence, with the maximum penalty being imprisonment for three months along with a fine of up to one lakh rupees.



Q.Which of the following gives 'Global Gender Gap Index' ranking to the countries of the world? (UPSC CSAT 2017)
World Economic Forum




UN Human Rights Council




UN Women




World Health Organization



Ans . A
compiled by World Economic Forum
Q.Which of the following are the objectives of 'National Nutrition Mission'?
1. To create awareness relating to malnutrition among pregnant women and lactating mothers.
2. To reduce the incidence of anemia among young children, adolescent girls and women.
3. To promote the consumption of millets, coarse cereals and unpolished rice.
4. To promote the consumption of poultry eggs.
Select the correct answer using the code given below: (UPSC CSAT 2017)
1 and 2 only




1, 2 and 3 only




1, 2 and 4 only




3 and 4 only



Ans . C
Q.What is the purpose of Vidyanjali Yojana'?
1. To enable the famous foreign educational institutions to open their campuses in India.
2. To increase the quality of education provided in government schools by taking help from the private sector and the community.
3. To encourage voluntary monetary contributions from private individuals and organizations so as to improve the infrastructure facilities for primary and secondary schools.
Select the correct answer using the code given below : (UPSC CSAT 2017)
2 only




3 only




1 and 2 only




2 and 3 only



Ans . A
HRD Ministry has launched an initiative called 'Vidyanjali' to encourage youngsters to volunteer their services at any neighborhood government school.
Q.Which of the following statements is/are correct regarding Smart India Hackathon 2017?
1. It is a centrally sponsored scheme for developing every city of our country into Smart Cities in a decade.
2. It is an initiative to identify new digital technology innovations for solving the many problems faced by our country.
3. It is a programme aimed at making all the financial transactions in our country completely digital in a decade.
Select the correct answer using the code given below : (UPSC CSAT 2017)
1 and 3 only




2 only




3 only




2 and 3 only



Ans . B
HRD Ministry's Smart India Hackathon is a 36 hours non-stop digital programming competition during which student teams will compete to offer innovative solutions for any given problem
Quiz
Score more than 80% marks and move ahead else stay back and read again!