Chapter 14: VOLUME 2
Introduction
AM, FM, waves are low frequency waves so cant travel long distances. They are modulated i.e. superimposed over higher frequency waves so that they can cover longer distances. If frequency more than 30 Mhz then the waves escape from the ionosphere ; If they
Agencies under I&B Ministry
Prasar Bharati Corporation
Motto: Bahujan Hitaay, Bahujan Sukhaay. Vaartavali: First Sanskrit news magazine was launched.
Central Board of Film Certification
There are 4 types of certifications: Unrestricted viewing [U], Parental Guidance for children under 12 [U/A], Adults viewing only [A], Specialized groups [S].
The C.B.F.C. is a statutory body under I&B Ministry for certifying films for viewing.
Issues related to Film Certification:
Central Board of Film Certification has been criticised for inordinate delays in the process of certifying films. The process of film certification is known to take a average delay of 169 days, when the Cinematography Certification Rules and the Cinematography Act allow for a maximum timeline of 68 days. The films are to be certified on a First Come, First serve basis but in some cases particular films were observed as jumping queues.
CAG led audit has also criticised the certification process. Various systemic faults were highlighted such as inordinate delay in granting certification by the CBFC board even though the Examining Committee has granted the approval. The CBFC boards decision is supposed to be a formality after the Examining committee's decision.
CBFC has been criticised as being an irrelevant institution in today's world where everything is freely available on social media. The board's decision to convert many films from A to U/A and U has also been criticised. The appointment of CBFC board members has become political and so films criticising the government are dealt with a tough hand.
Television Regulation
Media Channels
Regulated by News Broadcasters Association
Avoids hate news, paid news must be clearly marked. Develop Code of ethics for journalists.
Entertainment Channels
Broadcasting Contents Complaints Council is a self regulating body by the Indian Broadcasting Foundation.
Telecommunication licenses of India
Dept of Telecommunication provides three types of licenses:
Infrastructure Providers license
Towers and cables can be built and this license gives it the Right of Way for laying down cables.
Unified license
Single license for voice and data services
Unified license for Virtual Network operator
New category permitted by DoT for companies. These licensees shall buy unused spectrum from companies and provide last mile connectivity.
Dadasaheb Phalke Award
Highest award in Indian cinema presented annually at National Film Awards ceremony by Directorate of film festivals. Started in 1969 and latest recipient is Actor Manoj Kumar. The award is presented in the honour of Dadasaheb Phalke the "Father of Indian Cinema".
Phalke directed India's first full length feature film "Raja Harishchandra" in 1913.
Public Private Partnerships
P.P.P refers to the contract with a private organization by which the organization shall provide a public asset or service for a period specified in the contract. The return on investment is got by the private firm by charging fee for the service.
Infrastructure is a critical aspect on which India is lagging. Due to poor infrastructure India went from a agriculture dominated to service sector dominated bypassing the Manufacturing domination phase. The growth story of India is referred to as "Jobless Growth" as output and employment share of Indian manufacturing haven't changed in last 30 years.
Developed countries shall have aging populations and savings in the form of pension, retirement funds that need investment in long term stable projects. The Indian infrastructure sector can provide such projects with a stable rate of return and take advantage of these funds.
Recommendations of Kelkar Committee on infrastructure projects:
Infrastructure PPP Project Review Committee - Consists of expert members from technology, finance, law to review and recommend action on infrastructure projects which are facing "Actionable Stress" due to macro-economic factors.
Infrastructure PPP Adjudication tribunal: Under a judicial member as chairperson and consisting of legal and technical/ financial experts to examine matters of disputes in infrastructure projects.
Auditing: Disallow statutory auditing by C.A.G for Special Project vehicles created under Companies Act. Instead encourage good governance practices and corporate governance.
Avoid witch hunting of bureaucrats and distinguish genuine errors from corruption. Disallow PSU's from bidding in PPP projects as this hurts private industries and defeats purose of PPP.
Avoid PPP for small projects. No PPP without examining feasibility for a particular project.
Rail Budget
On recommendation of Ackworth committee the railway budget was seperated from the general budget from 1924 onwards. However Bibek Debroy committee recommended the merger of Rail and General budget which was accepted and shall be unified from financial year 2017-18 onwards.
Reasons:
Rail budget is a publicity stunt to announce populist schemes however it doesn't have funds to implement projects.
Size of rail budget has decreased compared to defense so merging won't decrease outlay.
Railway shall not be needed to provide dividend payment to government anymore leading to savings.
Bio vacuum toilets in trains: They have anaerobic bacteria that convert human waste into methane [bio-gas], water, pathogen free compost.
Railway R&D organizations:
SRESTHA: Special Railway Establishment for Strategic technology and holistic advancement.
SUTRA: Special unit for transportation, research and analytics.
Civil Aviation Policy 2016
India ranks 10th in the number of airline passengers. Its location is ideal between western and eastern hemispheres.
Steps to improve regional connectivity:
Max service tax to be 10%.
Viability gap funding via levy on air passengers from the Regional connectivity fund should be 80:20 and 90:10 for special category states.
Maximum 1% VAT on Airline turbine fuel [ATF] and provide concession on water, sewerage charges.
No frills airports to be developed to increase regional connectivity.
Subsidized training at public and private training schools for pilots to get commercial flight license.
DGCA to get more powers and private security agencies to be allowed to handle aircraft security.
Coastal areas to get sea plane tourism, air sports to be allowed.
Airports Authority of India
It is the Air traffic controller of India.
Total 125 airports are there and 26 civil enclaves at defence airports are present.
AAI also manages international , domestic and customs airports in India.
It manages cargo terminals, pasenger terminals and radars and runways in the country.
Directorate General of Civil Aviation
It is the regulator of civil aviation in the Country.
It registers civilian aircrafts.
It issues licence to pilots.
It supervises gliding clubs, investigates minor accidents.
Road Development
BharatMala
It is the name given to mega road project of the government to build roads from Gujarat, Rajasthan through Punjab cover all Himalayan states JK, Uttarakhand, HP, UP, Bihar and move to Sikki, Assam, Arunachl and All states on Indo - Myanmar border.
Coastal area of Maharashtra on west front and Bengal on east front to be connected.
Ministry of Road Transport & Highways to be nodal agency for implementation.
Construction in border areas shall be supervised by Defense ministry and Border Roads Organization and ordinary areas shall be done by National Highways Authority of India.
SagarMala Project
The main objective is to promote direct and indirect development and to provide infrastructure to transport goods to and from ports quickly, cost effectively and efficiently.
It has three main pillars:
Integrated port development through inter agency collaboration
Port infrastructure enhancement
Efficient evacuation to and from hinterland.
Objectives:
Modernizing major and non major ports
Development of new linkages with rail, inland waterways and coastal shipping
Strengthen port and evacuation infrastructure, build logistic hubs and manufacturing centers.
Simplify procedures for cargo movements and electronic information interchange.
Identify Coastal Economic Zones [CEZ] and State Sagarmala committee under Chief minister to oversee operations in states.
Community development fund for sustainable development of Community in CEZ.
Ease of doing business: World bank
India ranks low on the "Doing business" rankings of the world bank. The process of deciding the ranking is based on 10 heads. To calculate the ratings of these individual heads, the cities of Mumbai and New Delhi are selected. The one head that India should focus on is "trading across borders". This is decided by W.B by sending a shipment from Mumbai / Delhi to US and importing a shipment to India. The documentation cost and time and money spent on clearances and customs is calculated. This has brought the rankings down as paperwork is higher and so is cost involved in logistics and delivery. However steps taken by the government like:
Electronic data interchange to replace paper work.
SWIFT [Single window interface to facilitate trade]
ICEGATE [ E-Commerce portal for e-filing services to cargo and trade carriers]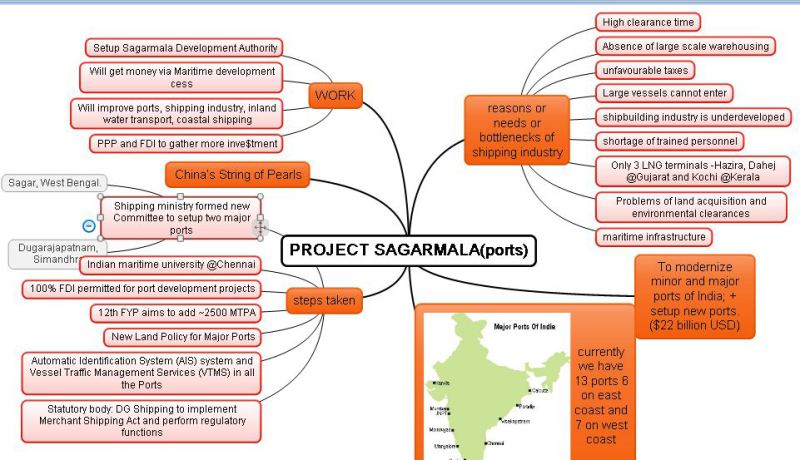 Fig 1: SAGARMALA INDIA
Q.In which of the following activities are Indian Remote Sensing (IRS) satellites used?
1. Assessment of crop productivity
2. Locating ground water resources
3. Mineral exploration
4. Telecommunications
5. Traffic studies
Select the correct answer using the code given below (UPSC CSAT 2015)
1, 2 and 3 only




4 and 5 only




1 and 2 only




1, 2, 3, 4 and 5



Ans . A
For telecommunications geo-stationary satellites are used.
Quiz
Score more than 80% marks and move ahead else stay back and read again!