Chapter 16: VOLUME 4
Health: India and World
Universal Health Coverage Index by World Bank is a rating of Countries based on parameters like Immunization, diarrhoea treatment, inpatient admission and impoverishment. Health schemes are core schemes and so 60:40 / 90:10 cost sharing between center and states / special category states.
India sex ratio is 943 females / 1000 males. It has improved by 10 points since last census. But child sex ratio is 914 whic has declined every time since 1971. However if no sex selection / gender violence is seen the sex ratio would have been in favor of women as they are more resistant to diseases and live longer.
June 21 is International Yoga Day.

Healthcare initiatives in Budget

PM Jan Aushadhi Yojana - 3000 stores to sell generic medicines.
Health insurance - Rs. 1 lakh per family and additional Rs 3000 for citizens above 60 years.
National Dialysis Services Program - Each session in NDSP costs Rs. 2000; To be set up via PPP.
Pharmaceutical Sector reform
The Government is in process of amending the Drugs and Cosmetics rules, 1945 to provide for a system of recall if any drug is found to be substandard. This change will make it mandatory for pharma companies to voluntarily recall substandard drugs from the nation's supply chain. The country has a central drug regulator called Central Drug Standard Control Organization and 35 State drug regulators. But when they find a faulty drug they can't force the company to recall the entire drug. Companies are also not mandated to have any internal quality control policy wherein they would randomly test drugs manufactured by them and recall the faulty batch.
The Indian pharma industry has been red flagged for manipulating test data and faulty practices by foreign regulators. The standard policy followed by the industry to counter such claims has been to allege unfair treatment from the foreign regulators and declare that they have been made victim for India's tough Intellectual Protection laws. Other practices have been alleging that the faulty batch wasn't manufactured by them but by counterfeiters, allege that the faulty batch went bad due to inadequate storage conditions in the foreign country and lastly levelling allegations and filing defamation suits against the whistleblower's who makes the revelation.
The changed rules shall hopefully stop such practices.
Pregnant women schemes
Janani surakhsha yojana: encourage institutional delivery.
Janani shishu surakhsha karyakram: free delivery and ceasarean delivery in government hospitals; Free transport , diet and mediation till child pto 1 year.
PM Surakshit matritva yojana: Ante natal check up of pregnant women every 9th of every month.
Matritva sahayog yojana: Conditional cash transfer for wage loss.
Creche: Scheme for children of working women
Human Development Report
The report was launched in 1990 by economists Amartya Sen [India] and Mahbub Haq [Pakistan]. The report is commissioned by UN Development Program.
The Human Development index was calculated and replaced in 2010 by Inequality adjusted - HDI.
HDI Indices:

Life expectancy index at birth
Education index: Average of mean years of schooling and expected years of schooling
Gross National Income per capita [Purchase power parity in $].
The geometric mean is taken of above indices and countries are categorized into 4 groups: Very high, high, medium and low. India is in medium category.
Gender Development Index = Female HDI / Male HDI. [GDI<1 is bad].
Gender Inequality Index:

Reproductive health - Maternal mortality rate, adolescent birth rate
Empowerment - parliament seats; Schooling above HSC
Economic activity - Participation in labor force.
Multidimensional Poverty Index:
MPI = Incidence * Intensity
Incidence indicators: health, education, standard of living
Intensity indicators: How many indicators does a household lack.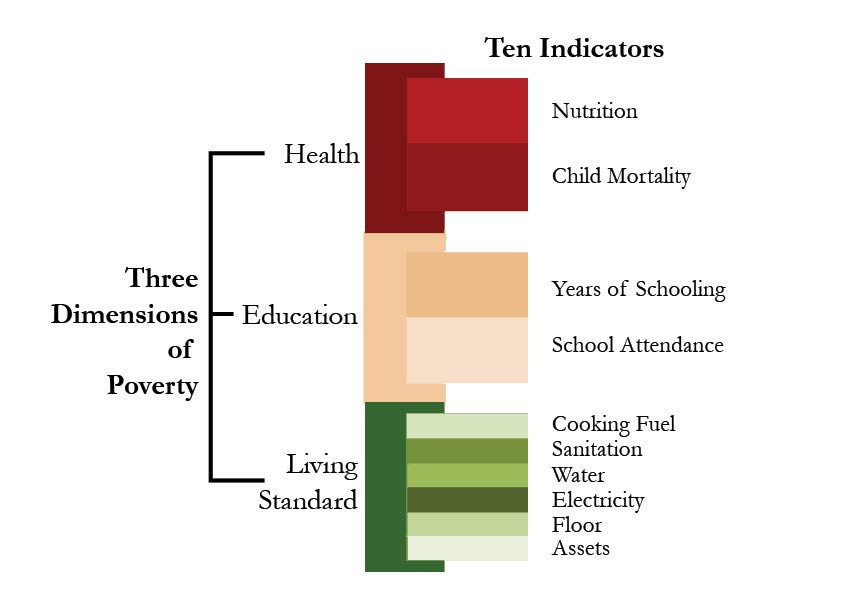 Fig 1: Multidimensional poverty index
Sustainable Development Goals
Adopted in 2015, UNDP New year summit. They were formulated by a committee of 30 members set up by UNGA.They have 17 goals and 169 targets with an achievement target by 2030.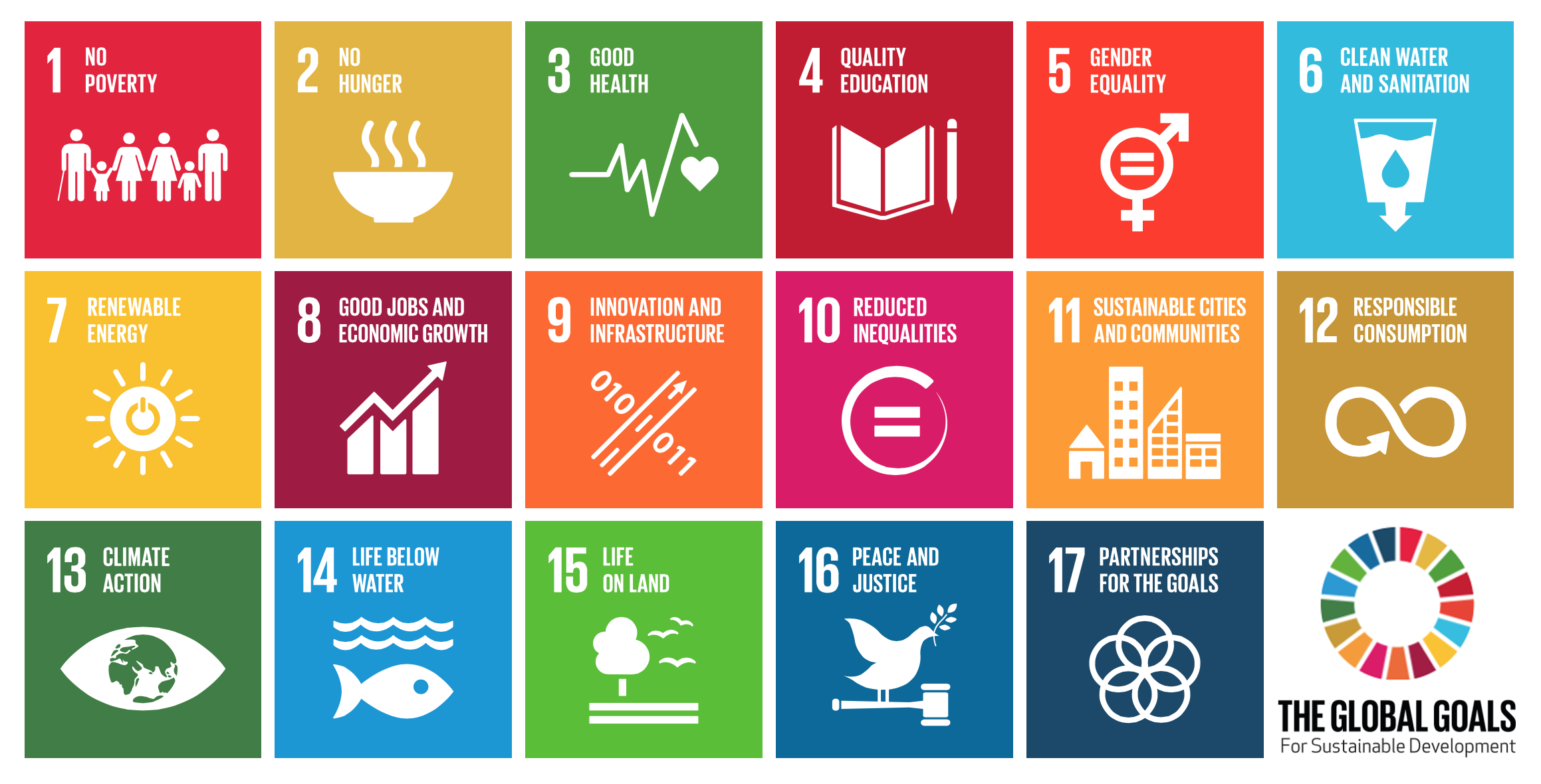 Fig 2: Sustainable development goals
Analysis of S.D.G:
Positives


Harmonized growth , environment protection and inclusive development.

All nations adopted them without discord and even emerging economies shall play part as donors.

Acknowledged role of private sector and civil society.
Negatives

More empty promises than actual action as seen during Syrian refugee crisis and helping small island nations.
World shall $ 5 trillion dollars each year so rich nations need to make firm commitments.
Too many goals and targets to monitor and implement.
Inconsistency in data obtained from third world countries. Data manipulation and fudging could make reporting tough.
Countries haven't even achieved Millenium development goals yet.
Funding guidelines missing.
Food Security in India
The United Nations celebrates October 16 as the World Food Day




Background




In 2017-18, over Rs 1,50,000 crore, or 7.6% of the government's total expenditure has been allocated for providing food subsidy under the Targeted Public Distribution System (TPDS) by the Department of Food and Public Distribution under the Ministry of Consumer Affairs.




Food subsidy is used for the implementation of the National Food Security Act, 2013 (NFSA), which provides subsidised food grains (wheat and rice) to 80 crore people in the country. The NFSA seeks to ensure improved nutritional intake for people in the country.




One of the reasons for the six-fold increase in food subsidy is the non-revision of the price at which food grains are given to beneficiaries since 2002. For example, rice is given to families under the Antyodaya Anna Yojana at Rs 3/Kg since 2002, while the cost of providing this has increased from Rs 11/Kg in 2001-02 to Rs 33/Kg in 2017-18.




Provision of food subsidy




TPDS provides food security to people below the poverty line. Over the years, the expenditure on food subsidy has increased, while the ratio of people below poverty line has reduced. A similar trend can also be seen in the proportion of undernourished persons in India, which reduced from 24% in 1990 to 15% in 2014. These trends may indicate that the share of people needing subsidised food has declined.




Nutritional balance: The NFSA guarantees food grains i.e. wheat and rice to beneficiaries, to ensure nutritious food intake. Over the last two decades, the share of cereals or food grains as a percentage of food consumption has reduced from 13% to 8% in the country, whereas that of milk, eggs, fish and meat has increased. This indicates a reduced preference for wheat and rice, and a rise in preference towards other protein rich food items.




Food subsidy is provided majorly using two methods.




TPDS assures beneficiaries that they will receive food grains, and insulates them against price volatility. Food grains are delivered through fair price shops in villages, which are easy to access.




However, high leakages have been observed in the system, both during transportation and distribution. These include pilferage and errors of inclusion and exclusion from the beneficiary list. In addition, it has also been argued that the distribution of wheat and rice may cause an imbalance in the nutritional intake as discussed earlier. Beneficiaries have also reported receiving poor quality food grains as part of the system.




Cash Transfers seek to increase the choices available with a beneficiary, and provide financial assistance. It has been argued that the costs of DBT may be lesser than TPDS, owing to lesser costs incurred on transport and storage. These transfers may also be undertaken electronically.




However, it has also been argued that cash received as part of DBT may be spent on non-food items. Such a system may also expose beneficiaries to inflation. In this regard, one may also consider the low penetration and access to banking in rural areas




In 2017-18, 52% of the centre's total subsidy expenditure will be on providing food subsidy under TPDS. The NFSA states that the centre and states should introduce schemes for cash transfers to beneficiaries. Other experts have also suggested replacing TPDS with a Direct Benefit Transfer (DBT) system.




The central government introduced cash subsidy to TPDS beneficiaries in September 2015. As of March 2016, this was being implemented on a pilot basis in a few union territories. It is estimated that a switch to DBT would reduce the food subsidy bill of the government by more than Rs 30,000 crore.




Current challenges in PDS




Leakages in PDS: Leakages may be of three types: (i) pilferage during transportation of food grains, (ii) diversion at fair price shops to non-beneficiaries, and (iii) exclusion of entitled beneficiaries from the list.




In 2016, the Comptroller and Auditor General (CAG) found that states had not completed the process of identifying beneficiaries, and 49% of the beneficiaries were yet to be identified. It also noted that inclusion and exclusion errors had been reported in the beneficiary lists.




In February 2017, the Ministry made it mandatory for beneficiaries under NFSA to use Aadhaar as proof of identification for receiving food grains. Through this, the government aims to remove bogus ration cards, check leakages and ensure better delivery of food grains. As of January 2017, while 100% ration cards had been digitised, the seeding of these cards with Aadhaar was at 73%.




Storage: As of 2016-17, the total storage capacity in the country is 788 lakh tonnes, of which 354 lakh tonnes is with the Food Corporation of India and 424 lakh tonnes is with the state agencies.




The CAG in its performance audit found that the available storage capacity in states was inadequate for the allocated quantity of food grains. For example, as of October 2015, of the 233 godowns sanctioned for construction in Maharashtra, only 93 had been completed. It also noted that in four of the last five years, the stock of food grains with the centre had been higher than the storage capacity available with Food Corporation of India.




Quality of food grains: People have complained about receiving poor quality food grain , receiving food grains containing alien substances such as pebbles. Poor quality of food may impact the willingness of people to buy food from fair price shops, and may have an adverse impact on their health.




The Ministry has stated that while regular surveillance, monitoring, inspection and random sampling of all food items is undertaken by State Food Safety Officers, separate data for food grains distributed under PDS is unavailable. In the absence of data with regard to quality testing results of food grains supplied under PDS, it may be difficult to ascertain whether these food items meet the prescribed quality and safety standards.



Quiz
Score more than 80% marks and move ahead else stay back and read again!