Chapter 8: ECONOMIC BODIES
National Infrastructure and Investment Fund - Budget 2015
It is a Fund of Funds created under Indian Trusts Act and controlled by Dept of Economic affairs. The total corpus of the fund is Rs. 40000 crores. 50% of it is from the government and rest from other sources.
It is a Category 2 - Alternate Investment Fund that can invest in financially viable Greenfield and Brownfield projects.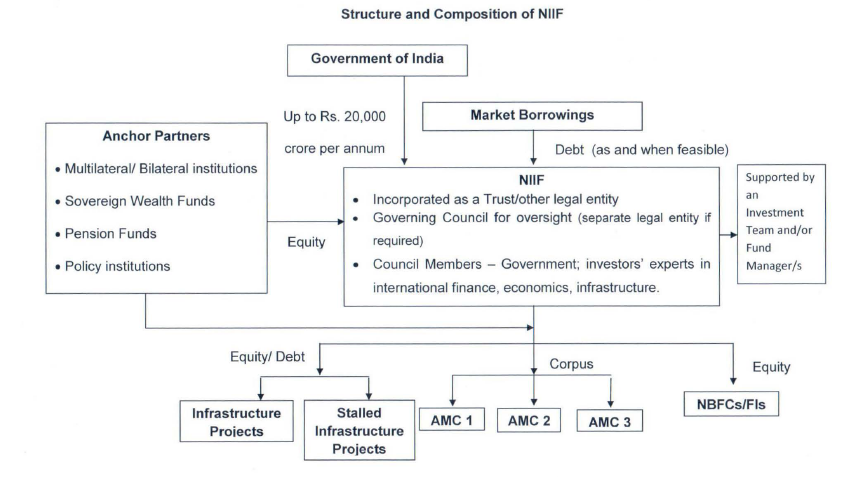 Fig 1: N.I.I.F Structure
Deposit Insurance and Credit Guarantee Corporation
Wholly owned subsidiary of RBI created under D.I.C.G.C Act, 1961 in 1978 to provide insurance on deposits and guaranteeing on credit facilities. HQ- Mumbai. The board of directors controls the corporation.
The chairman of D.I.C.G.C is a Deputy Governor of RBI. The day to day operations are handled by an executive director of RBI.
All commercial banks, land development banks, regional rural banks, credit society, cooperative banks are insured by it.
The banks have to pay the insurance premium from own resources and the depositors can use the insurance in case the bank is dissolved.
Maximum claim is Rs. 1 lakh and this means any depositor with less than Rs. 1 lakh in account can get his full amount but if he has above Rs. 1 lakh then he gets only Rs. 1 lakh. All demand deposits and time deposits are covered.
Credit guarantee is provided against farm loan defaults.
National Housing Bank
It is a wholly owned subsidiary of the RBI created by an act in 1988. It is the regulator of housing finance institutions in India and provides support to such institutions and promotes them at regional and national level.
It has a board of directors with a deputy governor of RBI as chairman.
The N.H.B Residex is for comparing the price movement of housing in various cities. The base year is 2007.
HQ - New Delhi.
Financial Stability Development Council
HQ - Dept of Economic Affairs, Ministry of Finance.
Chairman - Finance Minister, Members - Secretaries of Finance Ministry, Chief Economic Advisor to the Finance Ministry and Heads of Financial Regulators like RBI, PFRDA, IRDA, SEBI.
Functions:
Coordination among-st regulators.


It can't override decisions taken by a regulator in his own domain.


Coordination with international bodies.


Financial literacy, Financial inclusion.


Macro-prudential supervision


Sub committee under chairmanship of RBI governor resolves disputes between regulators.


Addresses financial sector development issues.


Supervision of large financial institutions.
Insurance Regulatory and Development Authority
It is a statutory body setup according to a law passed in 2000.
The main functions are :
Register insurance companies.


Regulate insurance industry.


Protect customers and frame regulations to promote competition.


Companies have to maintain separate accounts for receipts and payments.


Monitor fee rates, commission, accounting procedures, solvency of insurance agencies.


It has mandated that insurance companies can't give unauthorised commissions and are required to keep expenses within limits set by IRDA.


Features:
Chairman, 5 fulltime and 4 part time members appointed by the Government of India.
HQ - Hyderabad, Telangana.
Term of chairman is 5 years or till age of 65 years, 5 years or till age of 62 years for full time members and 5 year term for part time members. The members or chairman are not eligible for any other employment for 2 years without government approval.
Foreign Contribution Regulation Act
To ensure that foreign money isn't used for financing illegal activities in India. Any agency receiving foreign contributions should get registration with the Ministry of Home Affairs. Elected candidates, Public servants, Media can't receive foreign contribution.
Q.When the Reserve Bank of India reduces the Statutory Liquidity by 50 basis points, which of the following is likely to happen? (UPSC CSAT 2015)
India's GDP growth rate increases drastically




Foreign Institutional Investors may bring more capital into our country




Scheduled Commercial Banks may cut their lending rates




It may drastically reduce the liquidity to the banking system.



Ans . C
If SLR is reduced, banks have to park lesser money with RBI in form of securities, cash etc.

So, they have more money to lend and the return on lending is also greater than what they get in SLR.

Hence, the scheduled commercial banks may cut their lending rates.
Q.The Government of India has established NITI Aayog to replace the (UPSC CSAT 2015)
Human Rights Commission




Finance Commission




Law Commission




Planning Commission



Ans . D
Quiz
Score more than 80% marks and move ahead else stay back and read again!