State Bank of India conducts exams for selection of Probationary officers / Management trainees , Specialist officers or clerks for its own organization.
How to use upscfever.com for preparation
SBI PO exam is perhaps the exam that broke the record of even the almighty UPSC CSE when 17 lakh candidates enrolled for it. Almost 2500+ vacancies are declared and though most of the candidates are non serious the exam is quite popular. Speed and accuracy are needed and for it an aspirant has to prepare again and again. and again!!.
SBI preparation requires:
Examination for Probationary Officers / Management Trainees
Probationary Officers selection is done by a three tier process:
Online preliminary test: Conducted in month of July and results declared in July too. The online application is in month of May.

Online main examination: Those who clear the prelims. Conducted in last week of July. Result is declared in August.
Common interview and group discussions: Those who clear the mains exam. Interviews and group discussions are held in September first week and results are announced in September last week.
Provisional allotment is made to the candidates.
Examination Scheme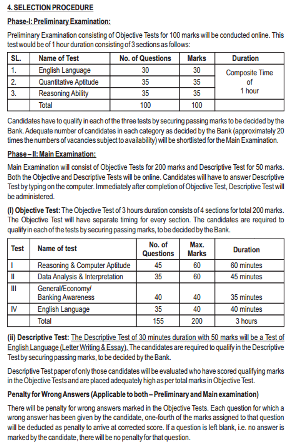 Fig 1: Examination scheme for SBI - PO

Phase – III: Group Discussion (20 marks) & Interview (30 marks)

The aggregate marks of candidates qualifying in both the Objective Tests and the Descriptive Test will be arranged in descending order in each category. Adequate number of candidates in each category, as decided by the Bank will be called for Group Discussion and Interview. The qualifying marks in Group Discussion & Interview will be as decided by the Bank. Candidates qualifying for GD & Interview under 'OBC' category would be required to submit OBC certificate containing the 'Non-Creamy Layer' clause. Candidates not submitting the OBC certificate containing the 'Non-Creamy Layer' clause and requesting to be interviewed under General category will not be entertained.
Final Selection
The marks obtained in the Preliminary Examination (Phase-I) will not be added for the selection and only the marks obtained in Main Examination (Phase-II), both in Objective Test and Descriptive Test, will be added to the marks obtained in GD&Interview(Phase-III) for preparation of the final merit list. The candidates will have to qualify both in Phase-II and Phase-III separately. Marks secured by the candidates in the Written Test (out of 250 marks) are converted to out of 75 and marks secured in Group Discussion &
Interview (out of 50 marks) are converted to out of 25. The final merit list is arrived at after aggregating converted marks of Written Test and Group Discussion &Interview out of 100 for each category. The selection will be made from the top merit ranked candidates in each category. Results of the candidates who have qualified for GD & Interview and the list of candidates finally selected will be made available on the Bank's website. Final select list will be published in Employment News/ Rozgar Samachar and also on Bank's website.